130W Laser Tube for Laser Machine
(For Die Cutting and Engraving)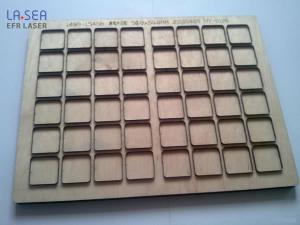 Model
F6 CO2 Laser tube ZS-1650 CO2 Laser Tube
Product Strengths
The CO2 laser tubes with an output power of more than 100W are equipped with a high-quality laser beam, and are compact in size, with a sufficient amount of working gas. It can significantly improve the processing efficiency of laser equipment.
Our laser equipment accessories are primarily used for cutting, engraving, marking, and welding of non-metallic materials as well as mold processing. Our other laser devices also have a wide range of applications in the field of sheet metal processing. Due to increasing economic benefits and promising market prospects, CO2 laser tubes are getting increased attention from a number of industries.
Application Examples
EFR's 130W laser tube for industrial use is among the best in laser cutting machine replacement parts that can achieve a high- powered laser cutting on die cutting boards, thick acrylic plates, plywood, light panels, display screens, leather products, clothing and more in different industries.
The popularity of the die cutting machines means they need to be of a higher quality and reliable laser die cutting machine accessories. With an excellent stability, high precision, fast speed, low failure rate, and long service life, EFR's high powered CO2 laser tubes can significantly improve the production efficiency.
Applicable materials
Die cutting boards
Thick acrylic plates
Crystal
Glass
Leather
MDF
Sheet metal
Paper
Plastic
Plexiglass
Rubber
Stone
Wood
Textiles
Bamboo
Plywood
Finished Products